Innovative, High-Quality Crack Repair Solution
During construction of the Mt. Zion Road Traffic Circle, (Maryland State Highway Administration, District 7), the special colored stamped patterned concrete mix specified for the circles' apron developed a number of cracks just after placement. The normal repair process typically would require the contractor to remove the entire section and pour it again at their expense.

---
Kaufman Products, Inc. was consulted, and a repair process was submitted to the Maryland State Highway Administration, District 7 Area Engineer. The process, Rout & Seal, involves removing a small section of concrete, centering the crack, and cutting a 1.5"- 2" slot into the remaining base concrete. Then gravity feeding the slot full with SurePoxy LMLV Epoxy Resin, thus "welding" the base back together with a flexible epoxy to allow for the minor future movement of the concrete. After addressing the crack, a 2" concrete topping was repaired using SurePoxy HM as the Bonding Agent and applied to the remaining area that had been chipped out. While the epoxy was wet, the "special colored concrete mix" was used to fill the area and stamped to match the existing pattern


The recommended process was accepted, and repairs were performed. Two years after completion of this repair, upon inspection, the original cracks have not reappeared!

Crack in freshly placed, "special color" concrete

The area saw cut and chipped.

Crack chased and area ready for repairs.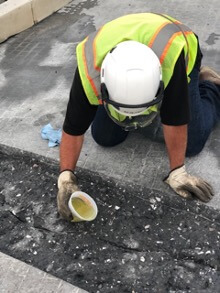 SurePoxy LMLV mixed and poured into slot.

SurePoxy HM was applied to the surface and concrete was placed.

Repair, 2 years later, no crack.